LISSOM Flyte Rainbow Python Print Slip-On Comfort Ballet Flats for Women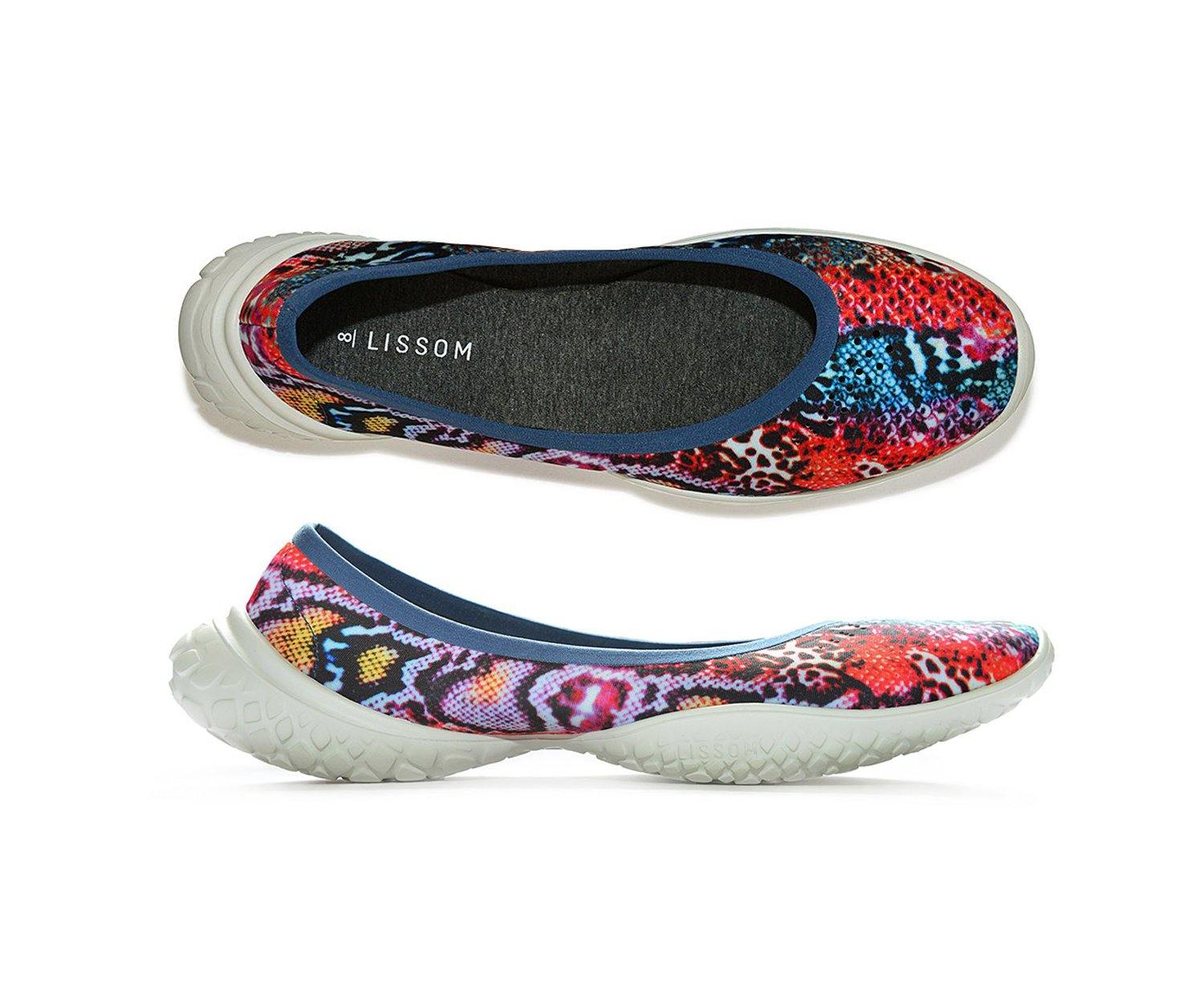 Description
The Oprah Magazine says they're "super-stretchy ballet flats". 
LISSOM® Flytes have been designed to help you live in the movement every day. The perfect marriage of a ballet flat and sneaker for ultimate comfort at home, work, or walking around all day.
These soft, flexible, comfortable shoes for women will custom mold to your unique foot shape in no time at all and are so light you'll barely notice that you're wearing them.
*FLYTE SHOE: INTERNATIONAL PATENTS PENDING
Shoe Features & Materials
Ultralight weight (about 100g per shoe) so that you feel like you aren't wearing anything on your feet.
Four layers of synthetic stretchy, technical fabrics (including patented materials used in performance apparel) that stretch and mold around your foot shape.
High grip, bouncy, super flexible patented outsoles.
Moisture-wicking lining fabrics for comfort and minimal odor.
Machine washable with replaceable insock liners.
Endorsed by a podiatrist and global leader in barefoot science.
The precise amount of cushion to damp impact on the body whilst still enabling sensory stimulation.
100% vegan materials.
More support than traditional ballet flats which can help both flat feet and high arches.
Sleek styling that you can wear with your whole wardrobe. 
What Size Should I Buy?
Our shoes fit TRUE TO SIZE.
We survey many customers about fit and the vast majority say they are true to size. We recommend that you order your standard US size. If you have a narrow foot you can also order your standard size as our shoes have an inbuilt memory stretch and will hold to the shape of your foot.
-You sometimes size up in other shoe brands (e.g. you wear a 6 in one brand, but wear a 6.5 in another brand, then order 6.5)
-You sometimes size up in different shoe types (e.g. you wear a 6 in dress shoes, but 6.5 in sneakers, then order the 6.5)
-You fall between a whole size and a half size, go up to the larger of the two sizes.
-You have a wide foot (whilst some wide fit customers do take their normal size, others prefer to have some extra room in the next half size up).
INTERNATIONAL COMPARISON SIZING CHART
| | | |
| --- | --- | --- |
| US | EU | UK |
| 5 | 35 | 2 |
| 5.5 | 35.5 | 2.5 |
| 6 | 36 | 3 |
| 6.5 | 36.5 | 3.5 |
| 7 | 37 | 4 |
| 7.5 | 37.5 | 4.5 |
| 8 | 38 | 5 |
| 8.5 | 38.5 | 5.5 |
| 9 | 39 | 6 |
| 9.5 | 39.5 | 6.5 |
| 10 | 40 | 7 |
| 10.5 | 40.5 | 7.5 |
| 11 | 41 | 8 |
| 11.5 | 41.5 | 8.5 |
| 12 | 42 | 9 |
*If there is a discrepancy between your normal US size and the EU/UK sizing in the below table, we recommend that you follow your normal US sizing.
Who Can Wear Our Shoes?
We have received very positive feedback from thousands of women ranging from school age to 90 years old who tell us that our flats are the most comfortable and help them move with ease and stand all day long with less pain, with a range of foot shapes and foot conditions including:
Wide feet
Narrow Feet
Narrow Heels
Flat Feet
High Arches
Bunions
Over pronation and under pronation
Arthritis
Hammer Toes
Morton's Neuroma
Neuropathy
Weak knees and weak ankles
*The above is not medical advice, but is based on genuine customer feedback that we have received from many customers with the above foot shapes and conditions
Customer Reviews
"I love how versatile these are—they look cute with my jeans or my yoga pants. I've only had them for about a week, but they are already forming to my foot and feel like a second skin. Highly recommend!"
"I just received my Lissom's. I have worn these all day and I love them! They are comfortable and stylish. I have had 3 foot surgeries and have a wide foot and these shoes conform to my feet for a cushy fit. They look great! Very slender looking. Love them💕" ·
"They're not just perfect for barre class, but they're the perfect little light, cute, comfortable, and fashionable shoe to throw on for a playoff baseball game!"
"Whether a full day of work, running around town catching up on errands, transporting my daughter to her next activity or just taking a day to relax and enjoy the great outdoors, these shoes are perfect. They feel like you are wearing your house slippers everywhere you go and at the end of the day your feet feel as good as that morning when you first slipped them on ❤"
"After a long day of errands and workout my Flytes are still keeping me going."·
"The most comfortable pair of shoes I own, including, wedges, sneakers, flats."
"Exceptionally light weight for travel. Absolute comfort and style. AND, most important to me, available in size 12!"
"I love their comfort, flexibility, design, and this color! Thank you so much". · "They look amazing and feel even better! My new wear everywhere go to..".
When my feet come out of their happiness coma, I will let you know." ·
"Beautifully comfortable right out of the box, lightweight yet support your foot, knee and back. A winner!" ·
"Wore them all day today...so comfy. I usually wear a wide width & was hesitant to order. But after reading that others with a wider foot found them comfortable, I took the plunge. Glad I did."
"So far, they feel great and I have no heel pain in flats for the first time in a long while."
"Everything! So comfortable. I hardly know I'm wearing shoes. They are stylish and I gave 2 ppl who asked the name of them and how to order already. They are soft and go with everything. Would love love another pair. I am good advertising. My legs hurt with sandals, not these. I wore them a day prior to a trip and was leary but no discomfort at all. I took the insole out and wore socks as I was going to a cold climate...perfect. I just love them!!". ·
They actually fit me! I have standard bunions & Tailor's bunions, so it is extremely hard to find comfy and cute shoes that fit.
Shipping & Delivery Information
We offer FREE Standard US Shipping (3-7 business days from dispatch date) on orders over $50 from our California warehouse in USA. Due to current worldwide shipping delays because of the impact of the COVID-19 pandemic, a small number of products will dispatch directly from our warehouse in Asia for the next 6 weeks. These items will have a shipping time of 7 working days to US customers and we will contact you to let you know directly if this applies to your items. We thank you for your understanding during this time and don't hesitate to get in touch at hello@lissom.com with any questions you may have.